This little guy is absolutely adorable, but a bit creepy without a mouth.... but still just as adorable. Also available
The Flash
,
Wonder Woman
,
Superman
,
The Joker
,
The Penguin
, and my personal favorite
Catwoman
! Each one is $12.99 + S&H
And for those geek girls out there!
"This nerd-tastic cincher is a fantastic item to make you the center of attention at the next Comic-Con. It shapes the waist beautifully with 14 total steel bones, 4 German spring steel and 3 spiral steel, and a heavy four-prong busk down center front for support and wearing ease. It is lined in heavy cotton twill for stability.

The one shown in the picture is a size 22 closed up the back. Typically, my corsets will cinch 2-6 inches off of your waist. I can make any sizes ranging from 18" to 30" right now. Anything larger will require additional time for me to acquire supplies, but I can accommodate. When purchased, you will get a corset made to order from the measurements you provide me!

When ordering, I require your bust, underbust, waist and hip measurements. Measurements are most accurate when you have a friend do them for you. " It's $150.00 plus $11.00 shipping in the US.
And...
"This has been hand-made out of polymer clay by artist, Lauren Swingle.

Please specify which games you'd like during checkout and also send a link to an image of the game label (google images are fine). If no games are specified when you order I will send the two pictured: Assassin's Creed and Halo 3

If you would like hypoallergenic findings, the earwires can be upgraded to sterling silver for an additional $3.00. Please contact me if you would like sterling silver prior to purchase and I will create a listing for you."


These lovely earrings are $15.00 plus $3.50 shipping in the US.
Gears Of War 2 Grenadier Lambent 2009 Comic Con Exclusive
from
Halo 13'
s online store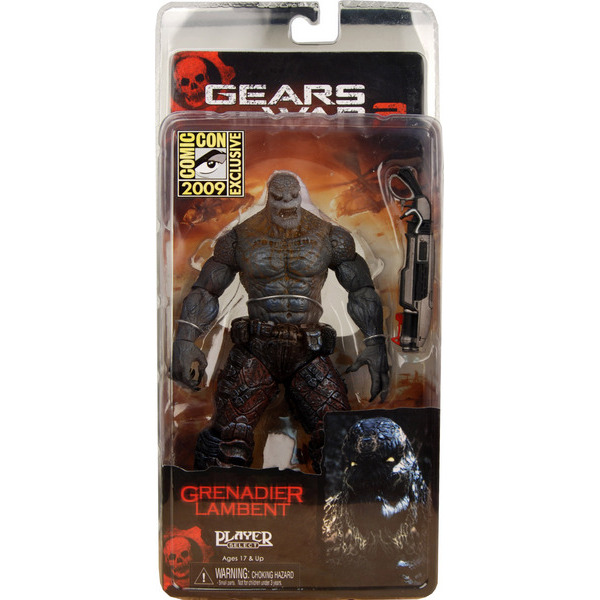 A must have for any uber fan of Gears, and an Comic-Con exclusive! It's $29.99 plus S&H
Little Damn Heroes #4 - Hoban "Wash" Washburne Animated Maquette
from
Quantum Mechanix
Wash is the fourth animated maquette in our best-selling series of Little Damn Heroes™. Standing 4.5 inches tall, the figure's richly detailed resin captures the child-like wonder and sense of utter joy that make Wash one of the most beloved characters from the TV series, Firefly.

The maquette includes the two dinosaurs Wash plays with in his cockpit: a Stegosaurus and a Ceratosaurus -- both of which can be removed. Adding to the authenticity of the scene is a swath of sandy beach complete with graceful palm trees.

Offered in an edition of 2,000, each numbered Wash animated maquette is priced at just $39.95. Catch this leaf on the wind before he soars away!
Once again it's $39.95 plus S&H
From the opening scene in Firefly where we were introduced to the much loved Wash! This shirt would be an awesome addition to a Browncoat's closet.
It's $18.99 - $20.99 plus S&H and comes in sizes ranging from S-XXXL