Kills on Wheels Screening
Thursday Oct 27, 9:30pm
Monica Film Center
1332 2nd Street
$
What I suspect that might get pick for Drafthouse or at least find it's way to the American market is the action packed lunacy of a WHEELCHAIR ASSASSIN GANG! Kills on Wheels is part of the Hungarian Film Festival and will play for one night only before possibly getting picked up by one of the independent distributors just for concept alone.
Kills on Wheels TRAILER (English subtitled)
from
Hungarian National Film Fund
on
Vimeo
.
Stan Lee's L.A. Comic Con 2016
Fri. Oct 28, 2016 at 5:00pm
- Sun. Oct 30, 2016 at 4:00pm
Los Angeles Convention Center
$tarts at $25, three day pass $70
A fan convention we never fully endorsed that will most likely have great cosplay.
Friday, Oct 28
, 7 PM - 2 AM
740 S Broadway, Los Angeles, CA 90014-2802
So much nerd talk, who cares? Just go if you want to meet other fans of the same stuff you like.
"The most epic nerd party event series ever will be launched and you'll be a part of it! See featured DJ sets by Rufio himself, Dante Basco, as well as DJ Eye, DJ Chuck None, DJ Quickpheet, DJ BluRay, and VJ The Dave. See live singing performances by television and cosplay stars! Be in the next epic D-Piddy video by the famed youtuber! Let your nerd-flag fly in a fun but safe environment made for and by real nerds!"
Tampopo Screenings
Starts Oct 28
Nuarte Theater
$
"Rediscover the joys of this hilarious "noodle western," perhaps the most popular Japanese comedy ever released in the U.S., in this new digital restoration. Goro (Tsutomo Yamazaki), a tough noodle-loving cowboy-truck driver, stops in on his way to Tokyo at a ramen restaurant run by Tampopo (Nobuko Miyamoto,
A Taxing Woman
), a sweet young widow whose heart is in the right place but whose noodles are lacking. When Goro criticizes the cuisine, a brawl breaks out. Awakening on the floor of the restaurant, Goro is beseeched by Tampopo to help her save her failing business, and he chivalrously agrees."
Fri Oct 8, 8:30pm
Entertainment Hobby Shop Jungle - Anime Jungle Los Angeles
319 E 2nd St, Ste 103, Los Angeles, California 90012
- Must be 18+
- ID required
It's dripping and it's not just what you think, it's dripping Engrish as the event's name is somehow "Wednesday Extra Hentai Friday?" Yes, it's a look at hentai...but we have the internet?
PopFest
Oct 29-30

THE REEF



1933 South Broadway Los Angeles, CA 90007
$tarts at $46
It looks like Entertainment Weekly has gotten rid of the more nerdy hero festival and gone with the more general PopFest. It's happening in direct competition of LA's Comic-Con with big names and fun panels; including one for CW's super hero shows.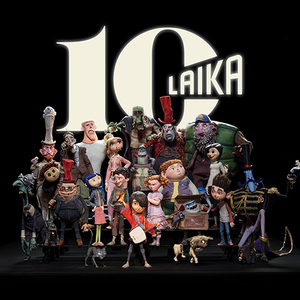 LAIKA 10yr Anniversary Exhibition / Halloween Party
October 29, 2016 - November 13, 2016
Oct 29,
7:00PM - 10:00PM
Gallery Nucleus
210 E. Main Street
Alhambra, CA 91801
"One of the greatest animation studios celebrates its 10 year anniversary! This October, we are honored to present brand new and unique tribute artwork inspired by Coraline, Paranorman, The Boxtrolls, and Kubo & the Two Strings. With production puppets and art also on display, this will be a must see event for all fans of the craft of animation and LAIKA studios."
Pokémon: The First Movie
Saturday, October 29, and Tuesday, November 1
Select theaters
$5
All you Pokemon GO players and the parents that spawned them, you have a film you can watch together with horrible, horrible Japanese writing about ethical questions children should not have to deal with in "Pokémon: The First Movie." It's back in theaters for two days, Saturday, October 29, and Tuesday, November 1. Somehow it's only gonna be for $5, so enjoy the children and the adults screaming at
Festival Supreme
Saturday, Oct. 29th
Shrine Expo Hall & Grounds
$99.50 plus applicable fees.
Tons of comedians to hang with and see in this off-world, Halloween themed adventure.